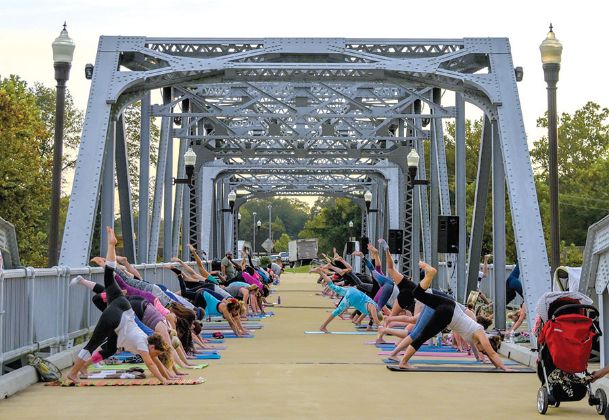 The W's fifth annual Barefoot on the Bridge event will begin at 6 p.m. Tuesday at the Columbus Riverwalk. Participation is free and open to the community. Photo by: Dispatch file photo
Passport to Wellness will offer an evening of relaxation on the river with the fifth annual Barefoot on the Bridge yoga event Tuesday, Oct. 15 at 6 p.m. at the Columbus Riverwalk.
In partnership with Bliss Yoga, Mississippi University for Women's Passport to Wellness will present the first 20 attendees with a free yoga mat. In addition, The W's Project CHEW (Cook Healthy, Eat Well) trailer will offer free water and healthy snacks.
"This event is a chance for yoga enthusiasts and newbies to meet and connect. It's great for students who need a break from studying, for parents who need some time out of the house, and for community members who are simply looking for something different to do," said Ashley Gressett, Passport to Wellness project manager.
Lee Ann Starr will represent Bliss Yoga at the annual event by leading everyone through the Vinyasa flow class. Bliss Yoga encourages people of all ages to participate in the free event to connect the mind with the body and gain strength, balance and flexibility.
Approximately 100 participants usually gather on the bridge for the annual yoga event.
"It's free, it's healthy and who wouldn't want to spend some time with friends in this beautiful weather?" said Gressett.
Passport to Wellness is made possible through a grant from Blue Cross & Blue Shield of Mississippi Foundation. It addresses the problem of unhealthy lifestyle choices relating to diet, physical activity and stress management. The program operates within Columbus and Lowndes County to serve residents of this community.