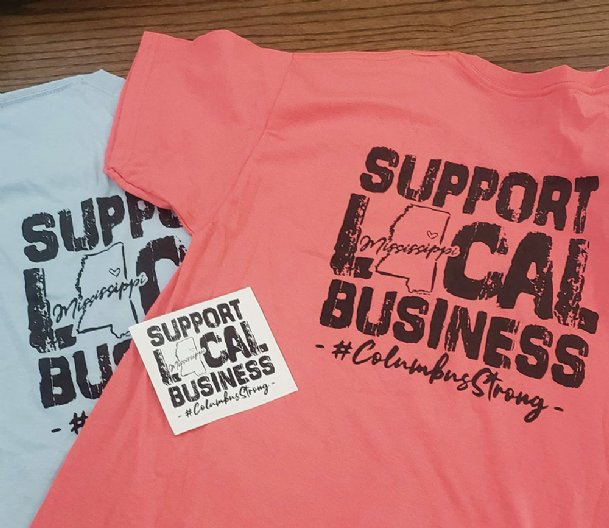 Main Street Columbus offers T-shirts supporting downtown businesses in six colors, including coral silk and gray. Photo by: Courtesy photo
Have you wondered what you can do to help support local, downtown merchants following COVID-19? Order a "Support Local Business" T-shirt and/or car decal. Main Street Columbus offers this fundraiser as a way to show support for downtown neighbors.
"This is an opportunity for our community to support downtown, local business while also sporting a fabulous-looking T-shirt," said Barbara Bigelow, executive director of Main Street Columbus. "They are only available for a couple more weeks, so order yours now."
Orders placed by noon on Mondays will be available the following Friday in the Main Street Columbus office at 107 Fifth St. N. The final day to order is Monday, June 8.
T-shirts are available in six colors -- mint green, coral silk, sky blue, orange, yellow and gray -- and in sizes from Youth Small to Adult 5X. Each shirt is $20, with $10 of that going to the Downtown Business Relief Fund.
Car decals may be ordered for $5; all of these proceeds go to the Downtown Business Relief Fund.
Ordering is easy at supportlocalcol.com. Have a credit card ready.
"Columbus is our home and our downtown is the 'heart' of our city," said Bigelow. "Why not consider supporting these local businesses today?"