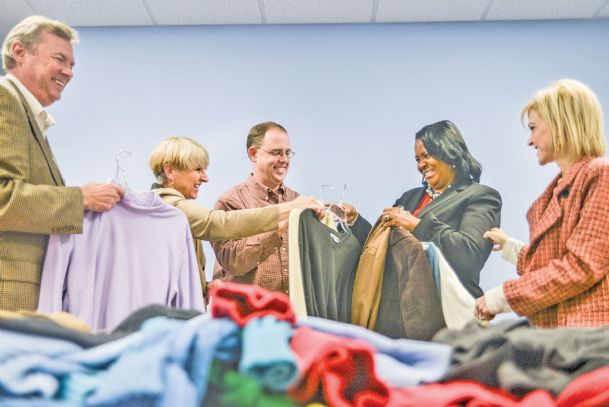 From left, Lee Burdine, Becky Maurer and Lance Holder, of the Columbus Exchange Club, hand coats to Glenda Buckhalter, with Community Counseling, to donate to people in need in the community. On the right is the president of the Columbus Exchange Club Elizabeth Johnson. Photo by: Luisa Porter/Dispatch Staff
Two Columbus nonprofits received donations Tuesday as part of "Giving Tuesday."
Community Counseling received a clothing donation from the local chapter of the Exchange Club. The clothing will be used for local homeless and those affected by a Thanksgiving fire, according to Community Counseling's Glenda Buckhalter.
Elizabeth Johnson, the president of the Exchange Club, said the organization decided to donate the clothing when they learned of the work Buckhalter was doing in the community.
"It is important to support these organizations that help make our communities better places to live by showing care and support of those in need," Johnson said Tuesday.
Johnson said Exchange would continue to collect and donate clothes throughout the end of the year.
The Golden Triangle Boys and Girls Club also received a donation yesterday as part of Giving Tuesday. Verizon Wireless donated $2,000 to the club to help support the club's domestic violence awareness and prevention programs.
"Giving Tuesday" was started two years ago by the 92nd Street Y in New York City and the United Nations Foundation. It is a response to commercialization and consumerism in the post-Thanksgiving season, according to organizers.