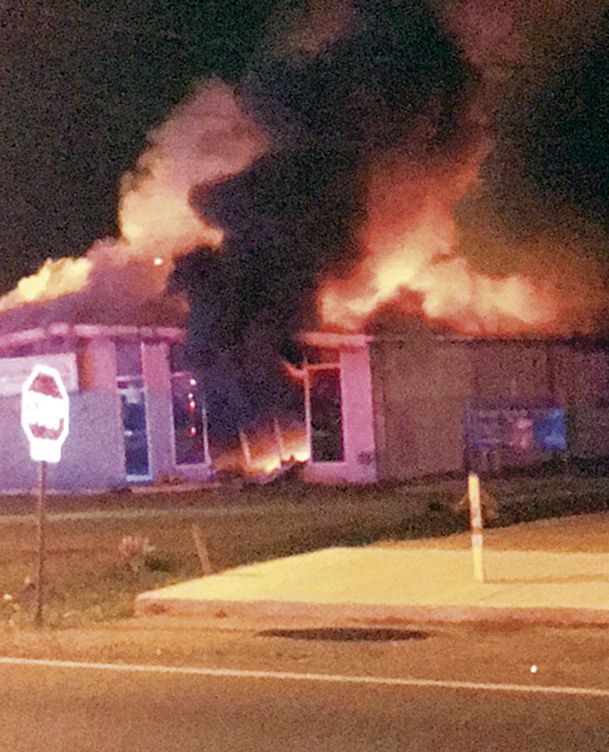 A refrigeration supply store caught fire early Sunday morning after an allegedly intoxicated driver crashed his car into the facility. The driver was arrested for DUI but claimed a glare from another vehicle caused him to lose control and leave the roadway. Photo by: Courtesy photo
Owners of a refrigeration company on Tuscaloosa Road claim more than $1 million in inventory damage after a car crashed into the facility and caught it on fire early Sunday morning.
City police arrested Larry Settles, 23, of Columbus for misdemeanor driving under the influence after crashing his vehicle into Refrigeration Supply Company, 207 Tuscaloosa Road, at 2:38 a.m., according to the incident report.
Settles was driving a Nissan Sentra on Gardner Boulevard when the vehicle jumped the curb at the intersection of Gardner and Tuscaloosa, causing him to leave the roadway and crash into the refrigeration supply store. The vehicle then caught fire, which also ignited the building. Police indicated there were no injuries.
According to the incident report, Settles told police a glare from another vehicle caused him to run off the road. Police arrested him for DUI although the incident report indicates he was not given a sobriety test on-scene. City Public Information Officer Joe Dillon told The Dispatch the suspect was given a field sobriety test.
The owner of Refrigeration Supply, Dennis Jones, was not available for comment. His son Brooks Jones said the business is closed while his father looks for a building in which to temporarily relocate. He added building damage and costs have not been calculated, but could cost more than $1 million in inventory alone.
"We have customers that rely on us," Jones said Monday morning. "We just hope to be able to find a building sometime today."