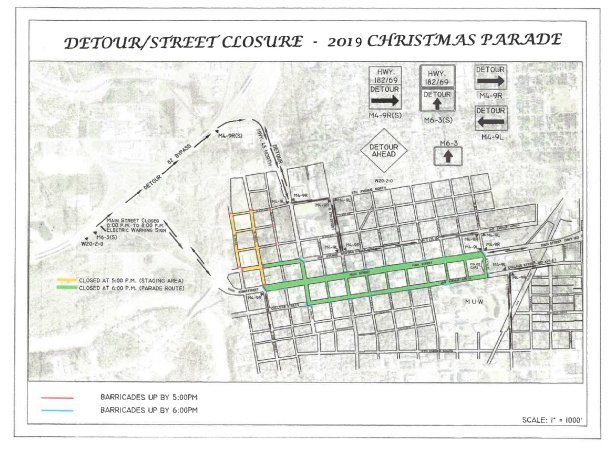 Christmas Parade Street Closures Photo by: Courtesy Photo
Christmas music and cowbells will be heard in abundance at both Columbus and Starkville's annual Christmas parades this evening.
Main Street Columbus will host Columbus' parade with the theme of "Christmas Movie Magic." The parade will start at the Hitching Lot Farmers Market at 7 p.m. The floats will travel east on Main Street, turn right on 14th Street South and come back to the starting point via College Street, Fifth Street and Second Avenue North. Live music will be onstage at the farmers market.
Doug Pellum, owner of Zachary's restaurant downtown, will serve as grand marshal.
Starkville's theme is "A Town & Gown Christmas" in honor of the partnerships between MSU and downtown businesses, according to the Greater Starkville Development Partnership, the parade's host organization. MSU President Mark E. Keenum and Mayor Lynn Spruill will serve as grand marshals.
The parade will start at 6 p.m. Floats will line up on Russell Street and travel west to Lampkin Street, turn north on Montgomery Street, travel west on Main Street all the way to Washington Street, go back to Lampkin Street and finish the route at First United Methodist Church.
WOBV Channel 5 will broadcast Starkville's parade.