STATE
5338 results « previous Page 264 of 267 next »
Florence police say a woman was arrested after her newborn baby tested positive for having marijuana in her system.
A state appeals court says a man isn't due any money after claiming he found a human tooth in the crust of a piece of KFC fried chicken in Montgomery.
Mississippi lawmakers on Thursday ended their 2011 session without finishing the job of redistricting.
Republican Gov. Haley Barbour has signed a $422.8 million bond bill to pay for needs at colleges, state agencies and for economic development projects.
An enormous tree limb that crashed through a Georgia family's bedroom killed a father and the young son he was holding in his arms Tuesday as a fast-moving storm system pounded the South with tornadoes, hail and spectacular lightning. At least eight people were killed around the region.
Republican Gov. Haley Barbour has signed into law a school bus safety bill drafted in response to a Jones County child's death.
Alabama corrections officials say they've put down an inmate uprising at Holman Prison near Atmore.
Mississippi lawmakers on Monday easily passed dozens of bills that make up the state's $5.5 billion budget for the year that begins July 1.
Lawmakers on Monday approved a bill authorizing the multimillion-dollar construction of two new Mississippi museums -- one devoted to the civil rights struggle and another focused on the state's overall history.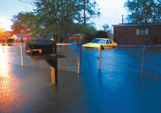 Six Columbus and Lowndes County families were evacuated from their homes Monday as a severe storm front swept across the state, causing power outages, damage and a death in Copiah County.
Some Golden Triangle-area schools let students out early as tornado watches and warnings broke out across north Mississippi and storms pushed toward Alabama this afternoon.
Mississippi usually tops most rankings for the unhealthiest or fattest states, but lawmakers can't be accused of ignoring the problem.
The National Weather Service says a storm system from the west was expected to bring heavy rain and high winds into Mississippi today.
Gov. Haley Barbour has signed into law a bill that supporters say will make it easier to prosecute parents who host drinking parties for teenagers.
Mississippi Gov. Haley Barbour's wife says the thought of his running for president "horrifies me" because it would be "a huge sacrifice for a family to make."
Fog may have been a factor when a school bus and a tractor-trailer collided on a rural Mississippi highway Friday, killing a 10-year-old girl and injuring at least 10 people, authorities said.
Mississippi lawmakers will return to the Capitol on Monday to begin passing a nearly $5.5 billion plan to pay for public schools, colleges, mental health services and other state programs during the next fiscal year.
Mississippi Gov. Haley Barbour tells The Associated Press he doesn't plan to pardon two sisters he released from prison earlier this year on the condition that one donates a kidney to the other.
Gov. Haley Barbour is pressing lawmakers to resolve funding for a Mississippi civil rights museum and a comprehensive state history museum, saying he wants both to be open in downtown Jackson when the state marks its bicentennial in 2017.
Two Columbus women were among four Mississippi residents charged with welfare fraud, the state Department of Human Services said.
« previous Page 264 of 267 next »