NATIONAL COLUMNS
« previous Page 127 of 197 next »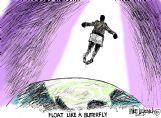 Dear Snoop Dogg: You could have been honest about it. If you had, I'd still think you wrong as two left shoes, but at least I could give you points for guts.
Before the lynching of The Donald proceeds, what exactly was it he said about that Hispanic judge?
Here is how Donald Trump suckers the little people. What follows is a telling of his methods, not commentary on his lack of scruples.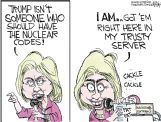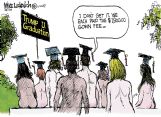 In his op-ed in The Washington Post, Chris Grayling, leader of the House of Commons, made the case for British withdrawal from the European Union -- in terms Americans can understand.
I like to go back to Metro Atlanta often enough to remember why I left. Atlanta, of course, is now one hellishly dense suburb that stretches from Chattanooga to Columbus with a tightly stitched tapestry of chain crap and traffic snarls in between. I creep along and remember.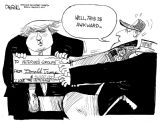 "Clinton to Paint Trump as a Risk to World Order." Thus did page one of Thursday's New York Times tee up Hillary Clinton's big San Diego speech on foreign policy.
It was such a marvelous idea: the United States of America.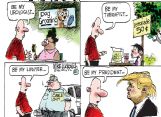 Bernie Sanders is clearly winding down his campaign for the Democratic nomination. In speeches and interviews over the weekend, he started turning his lance away from Hillary Clinton and toward Donald Trump.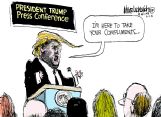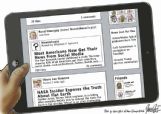 It's Friday afternoon and I'm sitting on the front porch of an uninhabited trailer that until recently was the home of Homer Cantrell.
Everything was different, the day after.
The president spoke a personal word: "I never forget that I live in a house owned by all the American people and that I have been given their trust."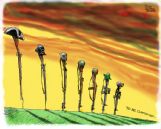 "Something startling is happening to middle-aged white Americans. Unlike every other age group, unlike every other racial and ethnic group ... death rates in this group have been rising, not falling."
« previous Page 127 of 197 next »