NATIONAL COLUMNS
« previous Page 163 of 198 next »
Critics and defenders of the harsh interrogation methods applied to captured terrorists can argue forever over whether those methods were "torture."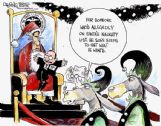 I'm paying up at this discount store, and the nice woman at the cash register asks me something like, "Do you want to support a program to help homeless teenagers get drug counseling?"
Mass protests have blocked highways, overtaken town squares and disrupted government buildings.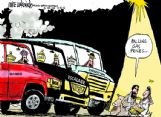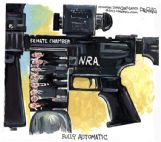 WASHINGTON -- A gaffe, under the oft-cited Michael Kinsley rule, is when somebody in Washington accidentally speaks the truth. But what happens when frankness leads you to say something so monumentally stupid -- the verbal equivalent of a pratfall, a face-plant into a mud pit -- that "gaffe" doesn't cover it?
Big city mayors have to stay as neutral as possible when asked about disputes between their citizens and the police. But New York Mayor Bill de Blasio found his voice in a profoundly moving way when he responded not as a mayor, but as a parent.
As "Wild" goes into wide release, a sacred Hollywood idea will be put to the test -- and, hopefully, it will flunk.
With the apparently imminent release of the Feinstein report on CIA interrogations of high-value terrorists a decade ago, let's consider the situation of intelligence personnel who have been involved, not in that program but in drone strikes against terrorists, conducted in a variety of countries around the world.
Few truly appreciate the enormous economic benefits the Affordable Care Act will deliver.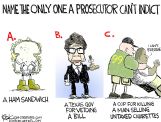 Interesting that the tech website CNET has started publishing an old-fashioned magazine -- you know, on paper, like Time and Life. To complete the retro circle, CNET's periodical is carrying print ads for Ford, Gillette and other brands already at home in the "Mad Men" era.
FISHTRAP HOLLOW -- I walked out to the little house in the yard that stores my books. From my personal library that techie friends keep telling me is silly and superfluous, I found with no trouble my battered old copy of "Of Mice and Men." Taped and raggedy and dog-eared, it feels in my hands like life.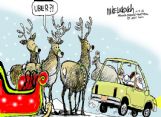 Gov. Phil Bryant gets an A for his political skills. He's very good at appealing to his base and is a shoo-in to win a second term in 2015.
What follows is for the benefit of one William James O'Reilly Jr. -- "Bill" to his fans.
In 1916, Wanamaker's department store in Philadelphia sponsored a children's parade.
After a week of Ferguson protests that have roiled the country, President Obama on Monday did what he generally does in times of crisis: He had a meeting.
Everyone seems to have an opinion about the tragic events in Ferguson, Missouri.
« previous Page 163 of 198 next »