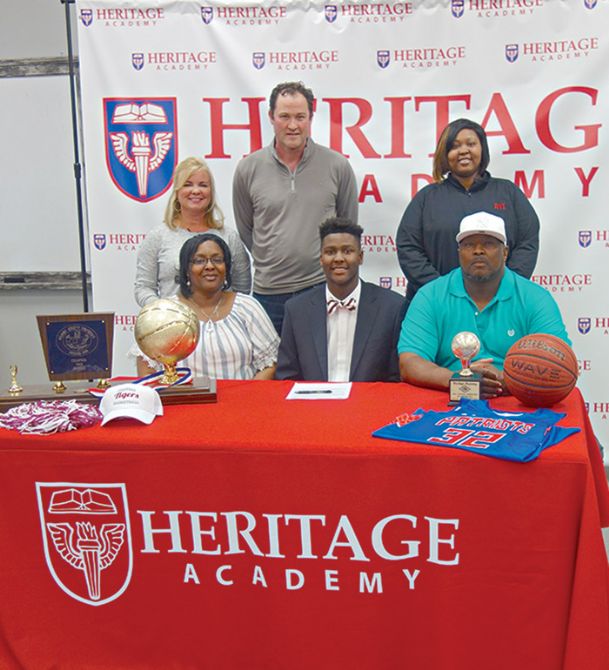 Heritage Academy Heritage Academy senior Cameron Bell signed a letter-of-intent Tuesday to attend school and play basketball at Coahoma Community College. Joining him on signing day were Chekila Young, left, his mother, and Steven Bell, his dad. Back row: Betsy and Chad Altmyer, and Cameron's sister, Alexus Bell. Photo by: Courtesy photo
Surrounded by his family and teammates Tuesday, Cameron Bell of Heritage Academy proudly signed a letter-of-intent to play men's basketball at Coahoma Community College in Clarksdale.
It is the continuation of an education that he hopes will make him a physical therapist one day.
Bell, who flashed his smile around campus on Tuesday, played a huge role in Heritage's drive to the school's first Overall State Championship in boys basketball this year. He played at forward and center for the Patriots.
"What a great kid," said Heritage boys basketball coach Russ Whiteside. "He's a hard worker, he's a high-character kid. I couldn't be more proud."
Winning a state championship is something that Bell, a transfer from Starkville, really wanted.
"It was a dream come true," he said.
Bell plans to enter school in the summer. After two years at Coahoma, he hopes to finish out a four-year degree at Mississippi State University.