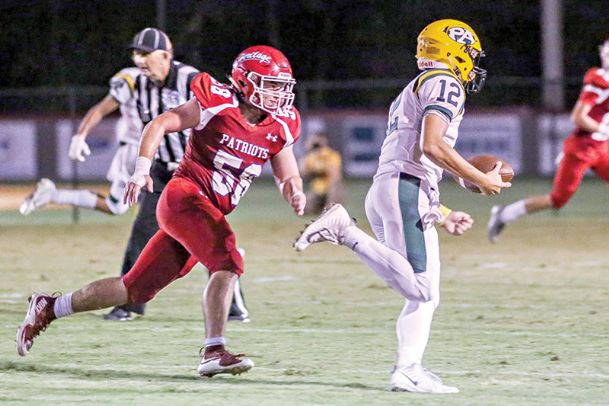 Heritage Academy's Parker Ray chases down an opposing quarterback in a game last season. Photo by: Chris McDill/Special to The Dispatch
By BEN PORTNOY
Heritage Academy senior Parker Ray flashed a wry smile as ink hit the paper.
Flanked by his parents and grandparents, Ray signed his national letter-of-intent to play football at Sewanee: The University of the South in front of nearly 100 classmates and teachers Monday afternoon in the school library.
"It just felt like it's finally here," Ray said. "I finally did it. I'm just excited to get there."
A linebacker and guard for the Patriots, Ray helped Heritage Academy to an 11-3 record in 2018 -- including a trip to the MAIS 3A State Championship Game.
"A kid like Parker signing is a huge deal to our program," head coach Sean Harrison said. "It's a kid who's been rewarded for his hard work."
Ray said his relationship with Sewanee head coach Travis Rundle was a key factor in his decision.
"We were really close the whole time and he just stood out to me," he said.
After battling through an ankle injury for the second half of the season, Harrison said it was Ray's determination and work ethic that set him apart on the field.
"Parker was the guy who was up here at 6 a.m. when he was playing baseball, lifting and always doing whatever he could to help our team," he said.