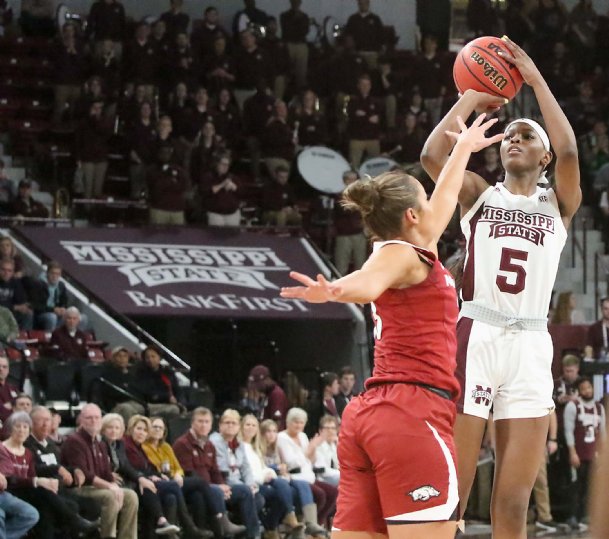 Rickea Jackson takes a shot over Arkansas' Chelsea Dungee Feb. 27 in Starkville. Photo by: Jim Lytle/Special to the Dispatch
STARKVILLE -- Three Mississippi State women's basketball players earned regular season recognition from the Southeastern Conference Tuesday morning.
Senior Jordan Danberry, sophomore Jessika Carter and freshman Rickea Jackson were named to the All-SEC second team. Danberry was also named to the All-Defensive team, while Jackson earned All-Freshman honors.
With three players on the All-SEC squad, the Bulldogs matched a program record in Schaefer's tenure. Danberry also became the 10th ever All-Defensive team selection.
Jackson -- a three time SEC Freshman of the Week selection -- is fifth among all players with 16.5 points points per game and ranks eighth in field goal percentage at 48 percent.
Carter concludes her regular season as MSU's leading rebounder (8.9 per game), blocks (1.8 per game), field goal percentage (60.1 percent) and double-doubles (11). Her 13.9 points per game is also the second best mark on the squad.
The lone senior on the roster this season, Danberry sits second in the SEC with 73 steals and has recorded multiple steals in 19 games. The Conway, Arkansas native also sits inside the top 15 in the conference in field goal percentage (51.6 percent), steals per game (2.1), assist/turnover ratio (1.7) and assists (3.6).