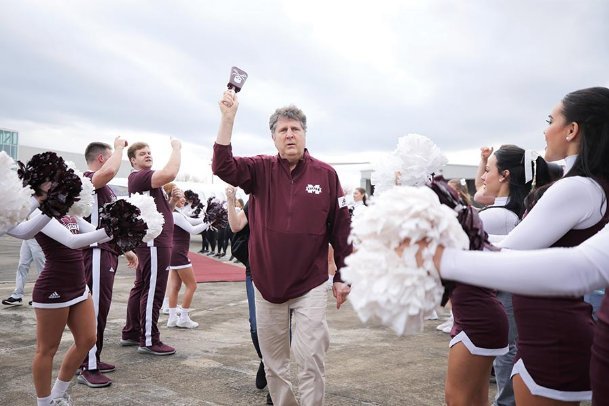 Mike Leach rings a cowbell for fans Thursday at George M. Bryan Airport in Starkville during a welcome ceremony for the newly-hired Mississippi State head football coach. The pirate emblem on the bell is an ode to Leach's love for pirate lore. Leach replaces Joe Moorhead, who was fired after only two seasons leading the Bulldogs. Photo by: Courtesy photo/Aaron Cornia/MSU Athletics
STARKVILLE -- Mike Leach has secured his second quarterback recruit since being hired at Mississippi State in January.
Four-star signal-caller Sawyer Robertson announced his pledge to MSU via Twitter Tuesday night. Robertson, a prolific prospect on the diamond as well, will also play baseball for the Bulldogs.
"A special thanks to Coach Leach and Coach (Chris) Lemonis and the entire football and baseball staffs at Mississippi State for believing in me and giving me this opportunity," he wrote.
Robertson comes to Starkville as the second quarterback in Leach's 2021 class after Liberty Christian product and fellow Texan Daniel Greek pledged to the Bulldogs Feb. 2.
With his commitment, Robertson becomes the highest-rated quarterback recruit to commit to MSU since Omar Conner in 2003. A native of Lubbock, Texas, his home town is also a place Leach called home for 10 years as the head coach at Texas Tech.
As a junior, Robertson completed 257 of 407 passes for 3,914 yards, 44 touchdowns and just eight interceptions.