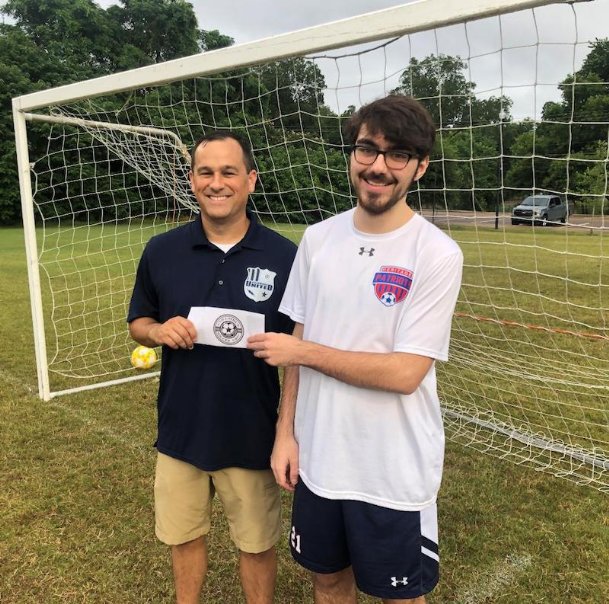 CSO coach Dave Albertson awards the first CSO Collegiate Scholarship to Coen Velek. The scholarship was founded in the memory of Dave's grandmother, Marolyn Albertson. Photo by: Courtesy of Columbus Soccer Organization
Columbus Soccer Organization has announced Coen Velek as the recipient of the first CSO Collegiate Scholarship.
Velek played on CSO teams continuously from U7 until U18. He was part of the first U8 Boys Development Program team, and from the age of 9 often played both recreational soccer and on a Columbus United team. He won a DII State Championship at U12, was part of the U13 boys team that qualified for the regional championship and anchored the CSO U18 boys state championship team. In addition to playing with CSO, Velek served as a TOP Soccer buddy for two years and also worked as a referee. Velek will continue his education as Mississippi State University, where he has been accepted into the Shackouls Honors College.
The CSO Collegiate Scholarship was established by donations in honor of Marolyn Albertson, the grandmother of Columbus United coach Dave Albertson. It recognized Marolyn's life and the important contributions the Albertson family has made to soccer in the area.
The scholarship is open to any player who registered with CSO during their high school playing years -- U15 and above. Preference will be given to players who are playing soccer in college, though all applications are welcomed and encouraged. Included are four-year institutions, community colleges and workforce training programs. The award can be renewed for an additional three years after the initial award.
For more information, visit columbusmssoccer.org.
Recreational soccer registration opens
Registration for Columbus Soccer Organization's fall recreational soccer league is now open. Recreational soccer is for all players 3 years of age and up. No soccer experience is necessary. CSO welcomes all players both new and returning. Registration fees start at just $25. Registration can be done online at columbusmssoccer.org or in person at the Lowndes County Recreation Department, 17 Airline Road (note: registration for CSO is no longer taken at the Columbus recreation department.) Mail in: CSO, 413 4th Ave. S., Suite #4, 39701. Questions or need a registration form sent to you? Email [email protected]