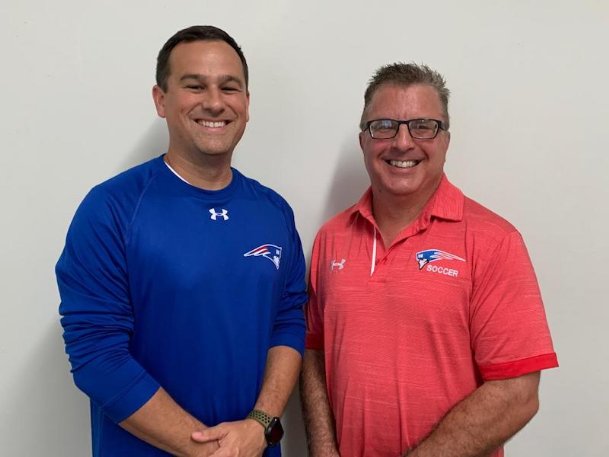 Heritage Academy has hired a pair of Columbus United coaches to lead its boys soccer team. Tom Velek, right, will serve as head coach, and Dave Albertson will be his assistant. Velek has already coached the Patriots' girls for the past four seasons. Photo by: Courtesy of Columbus Soccer Organization
Heritage Academy announced Friday it has hired Tom Velek as the school's new head boys soccer coach.
Velek will now be tasked with leading both the Patriots' boys and girls programs. He has led the girls team for the past four seasons. Velek replaces veteran coach Joe Asadi, who stepped down this spring.
The Columbus Soccer Organization president has worked in numerous positions with the Olympic Development Program, and Columbus United Soccer Club since 2005. His Columbus United teams have won multiple state titles, and he was honored in 2013 as United States Youth Soccer Association Southeast Region Coach of the Year and National Coach of the Year. In 2018 he was named MAIS District Coach of the Year.
Velek's son Coen played for the Patriots' boys team for the past three seasons, earning all-state honors in 2020.
"I have helped with match scheduling and representing the team at state meeting for the last three years," Velek said in a news release from Heritage Academy. "I have also had the pleasure to watch just about every match. There is a lot of talent on the team and it has had a lot of success. There is a lot of family support as well. I am looking forward to the challenge and can't wait to get started working with the team."
Heritage Academy also hired longtime Columbus United coach Dave Albertson to be Velek's assistant with the boys team.
"When I heard Dave was interested in the assistant position, it was a no-brainer," Velek said. "Dave is a stellar coach, and together we bring a strong coaching corps to the program." Albertson also holds national coaching licenses and in 2018 was named Columbus United Coach of the Year. Albertson currently serves on the board of directors of CSO and as the head coach of the United U12 boys' team.
Heritage Academy students interested in playing soccer can email Velek at [email protected]