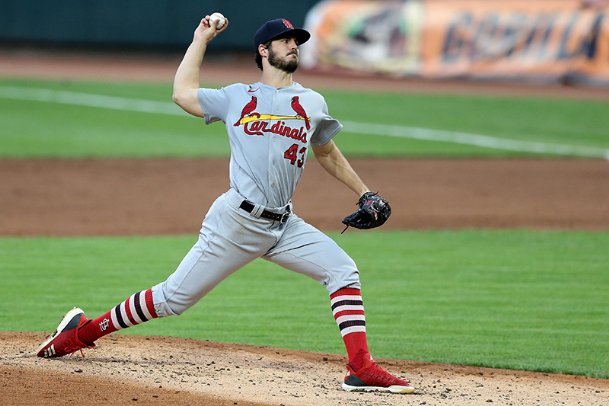 St. Louis Cardinals starting pitcher Dakota Hudson (43) delivers in the third inning of a baseball game against the Cincinnati Reds, Monday, Aug. 31 at Great American Ball Park in Cincinnati. Photo by: USA TODAY Sports
Dakota Hudson is helping the St. Louis Cardinals fight for a postseason berth. Entering Monday's games with two weeks remaining in MLB's truncated season, Hudson has a 3-2 record with a 2.92 ERA in 37 innings pitched. The right-hander has 31 strikeouts and a 0.97 WHIP.
Pittsburgh Pirates infielder Adam Frazier has recovered from a slow start, hitting .286 in his last 15 games. On the season, Frazier has a .228 batting average with five home runs and 17 runs driven in.
Former Diamond Dawg Brent Rooker made his long awaited debut with the Minnesota Twins at 25 years old, slashing .316/.381/.579 with a home run and five RBI in seven games. Unfortunately, Rooker suffered a fractured forearm and is out for the remainder of the season.
Jonathan Holder continues to put up dominating numbers in the New York Yankees' bullpen, as the right-hander has pitched to a 2.08 ERA with a 3-0 record. Holder has 14 strikeouts in 17.1 innings pitched.
Meanwhile, Mitch Moreland has hit .272 and has reached base at a .364 clip splitting time between the Boston Red Sox and the San Diego Padres. Moreland has hit nine home runs and driven in 25 runs in 2020.
Milwaukee Brewers ace Brandon Woodruff has posted dominant strikeout numbers this season, striking out 67 in 53 innings pitched. Woodruff has a 3.40 ERA and a 2-3 record in 2020.