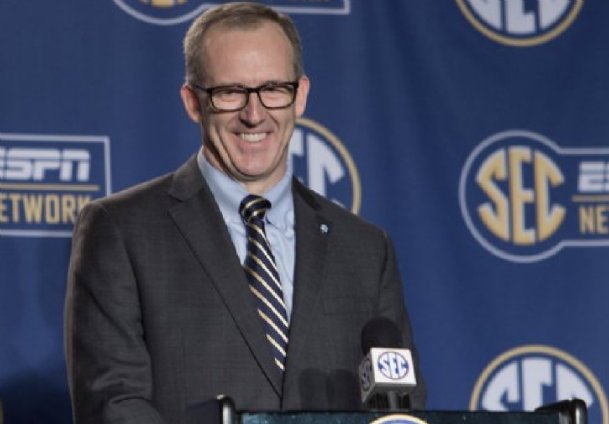 Greg Sankey Photo by: Southeastern Conference
STARKVILLE -- Mississippi State's game against Missouri, originally scheduled for Dec. 5, will be moved to a later date.
In an effort by the Southeastern Conference to ensure No. 1 Alabama could play LSU, Missouri will now play Arkansas at home on the day it was supposed to play MSU.
"The cooperation and flexibility of our coaches, athletics directors and campus leaders along with the dedication of our student-athletes now provides the opportunity to reach this point in the season with the ability for each SEC team to play ten football games in 2020," SEC Commissioner Greg Sankey said in a news release. "We knew before the season there would be interruptions and scheduling challenges related to COVID-19 and we will continue to manage the remaining weeks of the football schedule to allow for as many games to be played as possible, with a continuing focus on determining an SEC champion."
MSU already had its game against No. 22 Auburn rescheduled from Nov. 14 to Dec. 12 due to COVID-19 related issues among the Bulldog football program.
Assuming MSU's game against Missouri is rescheduled, the most likely date is Dec. 19, the day of the SEC Championship Game. The Bulldogs will now have an open date next week.
MSU's next game is Saturday against in-state rival Ole Miss in Oxford.