COLLEGE SPORTS
« previous Page 472 of 503 next »
STARKVILLE — History couldn't be made on the road. It just wouldn't have been right for Humphrey Coliseum to miss out on an NCAA record being broken. Mississippi State forward Jarvis Varnado needed eight blocked shots Wednesday to set a NCAA record, and he registered that total to pass former Louisiana-Monroe center Wojciech Myrda with an all-time mark of 536.
STARKVILLE — The Mississippi State women's basketball team can be thankful it is a member of the Southeastern Conference. But the parity in the league that its coaches have praised so much this season just might prove to the undoing of the Lady Bulldogs.
TUSCALOOSA, Ala. — One big hop is all Mary Kathryn Govero needs. When Govero is in rhythm and "feeling it," she typically steps into her outside shot with a jump that gives her balance and allows her to get maximum lift. Thursday was one of those nights.
STARKVILLE — The Mississippi State University women's track team will try this weekend to cap a stellar indoor season with a pair of league titles at the Southeastern Conference Indoor Championships.
SCOOBA — In a classic championship contest between regular-season division champions, the No. 12 East Mississippi Community College men's basketball team dropped a 61-58 decision to No. 25 Pearl River C.C. on Thursday in the men's title game of the EMCC-hosted MACJC State Basketball Tournament at Keyes T. Currie Coliseum.
Today marks the start of a hopeful rise or fearful plunge in National Football League draft stock for more than 300 former amateur athletes. A pair of former Mississippi State Bulldogs have some work to do if they want to become the program's first draft picks since 2007.
STARKVILLE — Down, but not out. That seems to be a theme for the Mississippi State University baseball team this season. For the third time in four games, MSU overcame a deficit, this time thanks to Luke Adkins and Connor Powers, who hit back-to-back solo home runs in the bottom of the ninth inning in a 6-5 victory against the University of Alabama-Birmingham on Tuesday night.
STARKVILLE — Apparently everyone in the Mississippi State University men's basketball camp is fine with the lineup the Bulldogs use and when they use it. So long as the team is winning. In the past two games, the Bulldogs (19-8, 7-5 Southeastern Conference) have started a "big" lineup with Jarvis Varnado, Kodi Augustus and Romero Osby across the front line.
SCOOBA — The top eight seeds have advanced to today's semifinals of the MACJC State Basketball Tournament, as all four No. 1 and 2 women's seeds prevailed Tuesday in opening-round women's action at Keyes T. Currie Coliseum. In Tuesday's nightcap, which was a rematch of last year's NJCAA Region 23 championship contest, the No. 3 nationally ranked Lady Wolves of Copiah-Lincoln remained unbeaten (24-0) with a 73-65 victory against East Mississippi Community College.
STARKVILLE — Senioritis came on the wrong day for the Mississippi State women's basketball team. With a chance to solidify its chances to earn a first-round bye to the Southeastern Conference Tournament next month in Duluth, Ga., the Lady Bulldogs played their most uninspired and unfocused game of the season. Alli Smalley and Auburn were only too happy to take advantage.
Mark White isn't sure what he'll get today. His East Mississippi Community College men's basketball team is still dealing with sickness that affected the Lions on Thursday in a loss to Northeast Mississippi C.C. in the regular-season finale.
STARKVILLE — Jarvis Varnado doesn't spend much time thinking about his ascent to the top of the NCAA record books. But Mississippi State men's basketball fans are keenly aware of the chance Varnado has to make history Wednesday night.
STARKVILLE — John Cohen admits his Mississippi State baseball team couldn't have had a better start to the 2010 season. After sweeping the University of Rhode Island last weekend, the Bulldogs (3-0) will try in today's home game (4 p.m.) against the University of Alabama at Birmingham to use youth on the mound and to get solid run support like they did against the Rams.
The East Mississippi Community College women's basketball team can accomplish a feat tonight that no other team has realized this season when it takes the court in the MACJC state tournament. The Lady Lions can be the first team to beat Copiah-Lincoln Community College when the teams tip off against each other at 7:30 tonight in Scooba.
STARKVILLE — Pearl Rack had dreams for her daughter. As someone who enjoys dancing and as a past sponsor of the Franklin High School (La.) dance team, Pearl imagined a day when her youngest child, Alexis, would take the stage for a performance and delight audiences with her moves. Pearl decided to assist Alexis with her steps by enrolling her in a dance class. But Alexis wouldn't move.
STARKVILLE — The much-heralded but untested freshman pitching class of the Mississippi State baseball showed why head coach John Cohen had no qualms about leaning on the newcomers this year. In just the second game of the season, freshman starter Chris Stratton and freshman relievers Kendall Graveman and C.C Watson combined on a five-hit shutout to pitch Mississippi State past Rhode Island 9-0 on Saturday. MSU (2-0) will host Rhode Island again at 1:30 p.m. today in the final game of the season-opening series.
MONTGOMERY, Ala. –– The third time was the charm for Wade Goodman and the Pickens Academy girls basketball team. Pickens Academy won the AISA Class AA state championship in Goodman's third season as head coach by beating Laikeside Christian 53-39 at Huntingdon College on Friday. "It's really the combination of three years of hard work," Goodman said. "The girls deserve everything they got."
STARKVILLE — Picked by league coaches to finish last in the Western Division of the Southeastern Conference, the Mississippi State baseball team's excitement about the 2010 season has an obvious reality in the team's reconstruction. Year 2 of John Cohen's command will see 18 fresh faces open the season at 4 p.m. today against Rhode Island at Dudy Noble Field. They've also gotten their first taste of just how celebrated MSU baseball is by experiencing Dudy Gras.
STARKVILLE — MississippiState men's tennis coach Per Nilsson thinks his team might not have been fully tuned-in during a 3-3 start to the season. Today's home opener against UAB at 2 p.m. starts a three-match homestand after MSU suffered a 4-2 loss to Brigham Young and 5-2 setback to No. 24 Washington. Mississippi State rebounded from the Washington loss with a 5-2 win against East Tennessee State, but Nilsson believes the team could very easily be 5-1 heading into today's matches. The Bulldogs opened the season with a 4-3 loss to Ole Miss at the River Hills Cup in Jackson.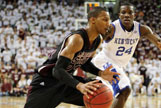 STARKVILLE — What could have been a spectacular night, with a national television audience watching the Mississippi State men's basketball team bid for an upset of No. 2 Kentucky, turned ugly Tuesday. Mississippi State's image suffered a black eye when unruly fans threw bottles of water onto the court at Humphrey Coliseum after Kentucky rallied to beat the Bulldogs 81-75 in overtime. Mississippi State Director of Athletics Greg Byrne isn't happy about it. Neither is university president Dr. Mark Keenum.
« previous Page 472 of 503 next »